Event Menton June 2017 | Boxing Menton Star II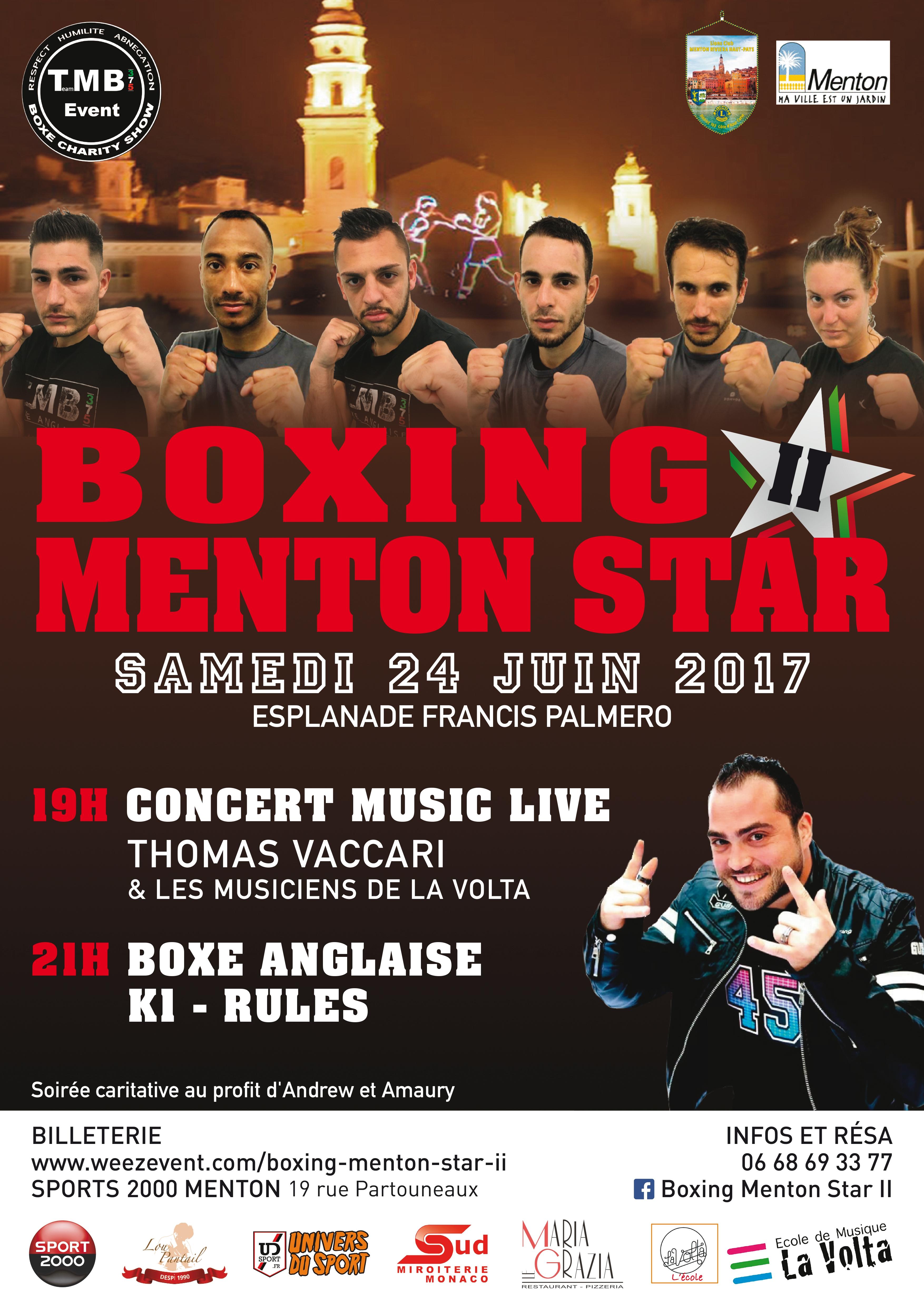 On the next Saturday June 24th, a boxing event is scheduled on the Promenade du Soleil, in Menton, at Esplanade Palmero : the Boxing Menton Star II !
Only 5 minutes from the Quality Hotel Mediterranee Menton, Team MB 375 Event organizes, with the city of Menton and the Lions Club Menton Riviera, this charity event.
The evening will take place outdoors. It will be perfect to take advantage of the match while admiring the stunning landscape and the sunset over the Mediterranean Sea.
Some tickets cost 35€, others 45€, and the amount will be collected for the benefit of Andrew and Amaury, two unfortunate victims of the attack of July 14th 2016.
In prime time, come and relax to the sound of Thomas Vaccari's vocalisations, a participant of the second edition of the TV Show The Voice and who comes from Menton, and of the chords of the musicians from the school La Volta.
After the two hour show (7 pm – 9 pm), you will be able to attend the different boxing matches, with 6 matches of English boxing (2 of which will be professional ones) ; 3 matches of K1, a sort of Japanese kick boxing, between France and Italy champions ; and a match of Full Contact, also known as American boxing or kick boxing, between the World Champion in French Boxing 2015 and the France Champion in Full Contact 2017.
The evening promises lots of emotions !
You can book your tickets for this event right now here.
Benefit from it to have a stay in the beautiful city of Menton. Lovely in every season, it will also enable you to discover the wonders of the region, as it is located halfway between Monaco and the border with Italy. So it is an ideal place to go to discover the French Riviera !
To delight from a stay in the sun and from this charity evening, book right now your room at the Quality Hotel Mediterranee Menton on our official website. We hope to see you on the next June 24th !